類別: 西班牙菜,西餐,酒吧

地址: 灣仔船街1-7號地下(港鐵灣仔站 B2 出口)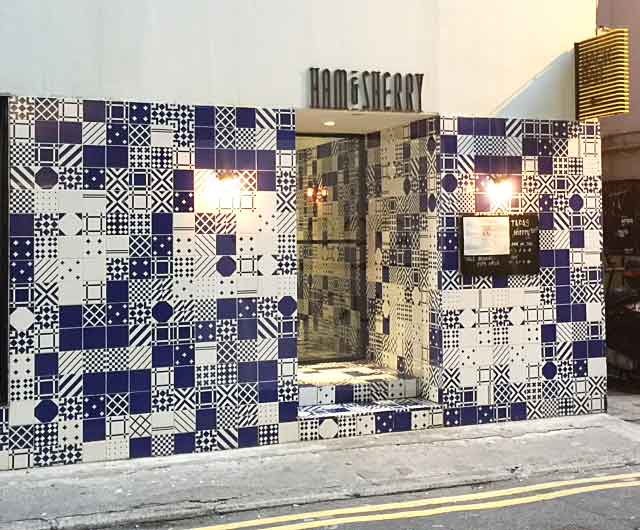 Share via Whatsapp
招牌菜:
mixed ham board
braised lamb
Lemon cake, matcha tea, toffee, raspberry & balsamic
Goats curd & jamón croquettes
營業時間:
一至六: 12:00-15:00; 18:00-23:00; 星期日: 12:00-21:00
付款方式:Visa Master 現金 銀聯
網址:
hamandsherry.hk
Ham & Sherry
A Jamón and Sherry restaurant by Michelin-starred Chef Jason Atherton – tapas, aged Spanish hams and sherries and a hidden Back Bar with great cocktails.
From the same team that brought you 22 Ships, Ham & Sherry is a Jamón bar by Jason Atherton, serving not only a great variety of Spanish hams but also a full menu of traditional tapas at its bodega-style front restaurant. We have taken to the next step and truly embraced the Sherry culture, working with the leading Sherry producers to reintroduce this great forgotten wine and offering over 50 different Sherries and styles.
Ham & Sherry is a meeting place, a social hub that every neighbourhood in Spain has, with traditional tapas and the usual Jason Atherton twist.
The "Back Bar" at Ham & Sherry is something to discover with entry through a hidden door in the adjacent side alley. OPEN MONDAY-SATURDAY 6 PM TILL LATE! Moody and intimate, this bar serves great cocktails crafted by award-winning Bar Manager Ryan Nightingale, a menu of light bites is also available for nibbling over drinks…it's the perfect spot for pre or post dinner drinks. If you're dining at Ham & Sherry or waiting for a table at 22 Ships, just across the road.
It is designed by award-winning Neri&Hu and will blend into its hip Ship Street location in Wanchai with a contrast of the traditional Spanish Bodega and the urban modern bar.
Ham & Sherry is the creation of entrepreneur Yenn Wong, founder of the JIA group (which in Hong Kong includes the much-lauded 22 Ships, Aberdeen Street Social, Duddell's, 208 Duecento Otto, Chachawan, Mak Mak, Meen & Rice, Fish School and Rhoda), in collaboration with Michelin-starred British Chef Jason Atherton.


Ham & Sherry fanpagehttp://bit.ly/2fMkpIa
(以上資料祗屬轉載,客人如於使用上述優惠時與商户起爭議,i FoodCourt既不負責。)