類別: 美國菜,西餐,酒吧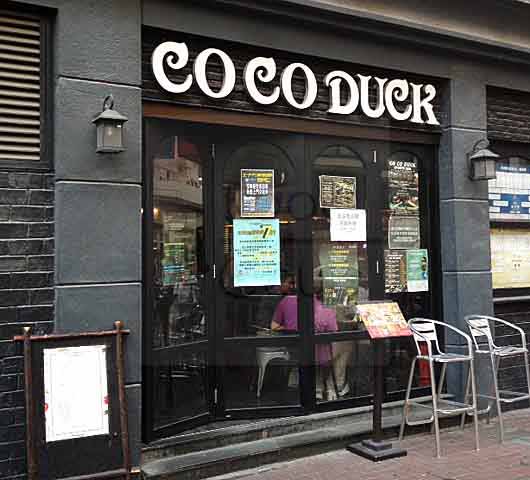 Share via Whatsapp
招牌菜 :
巨人T骨牛扒
芥茉香草烤羊架
香辣水牛城雞翼
原隻香草胡椒春雞扒
燒烤美國豬仔肋骨配桑尼醬
營業時間 : 請參閱內文
付款方式 : Visa、Master、現金
網址:
bit.ly/2eE7SFV
歌德(美式)餐廳酒吧 Co Co Duck (American) Restaurant & Bar
CO CO DUCK Restaurant & Bar has more than 20 years experience in food & beverage industry, unique combination of restaurant and bar has satisfied customers since the 80s. Our innovative American dishes keep customers coming back over the years, and is particularly popular among young customers. All our stylish food and drinks comes with affordable prices, with our homey American style environment, you and your friends will feel right at home. We offer lunch, afternoon tea, and dinner till late, come to CO CO DUCK whenever you feel the urge. Private party booking available for companies and organizations.
We have plenty of electronic dart machines . Soft tip darts is very popular in Japan, apart from traditional games, our dart machines provides multiple newly designed programs for darts players to enjoy. With our various beer promotions and authentic American snacks, this is the best place to eat, drink, play darts and have fun with friends.
We also host dart competitions and leagues in a regular base, Dart lovers can learn from each other while enjoy the competitiveness of the game.


分店資訊
九龍
旺角洗衣街店
地址:旺角西洋菜南街74-84號旺角城市中心6樓 (港鐵旺角站 E2 出口)
電話:36783300
營業時間:11:30 – 05:00
歌德(美式)餐廳酒吧
Co Co Duck (American) Restaurant & Bar
地址:旺角洗衣街74號得寶大廈3樓 (港鐵旺角站 E2 出口)
電話:27873838
營業時間:11:00 – 05:00
新界
葵涌店
地址:葵涌葵義路15號葵芳闆地下E、F舖 (港鐵葵芳站 B 出口)
電話:24206229
營業時間:/
荃灣店
地址:荃灣眾安街26-40號合眾大廈1樓 (港鐵荃灣站 B1 出口)
電話:2411 1905
營業時間:
一至五:11:30-05:00
六及日:11:30-06:00
歌德(美式)餐廳酒吧
Co Co Duck (American) Restaurant & Bar
地址:荃灣眾安街107-109號地下 (港鐵荃灣站 B1 出口)
電話:29448822 / 24098686
營業時間:/
歌德(美式)餐廳酒吧 Instagram http://bit.ly/2eNpdd6
(以上資料祗屬轉載,客人如於使用上述優惠時與商户起爭議,i FoodCourt既不負責。)