類別: All Day Breakfast,漢堡包,英國菜,西餐,酒吧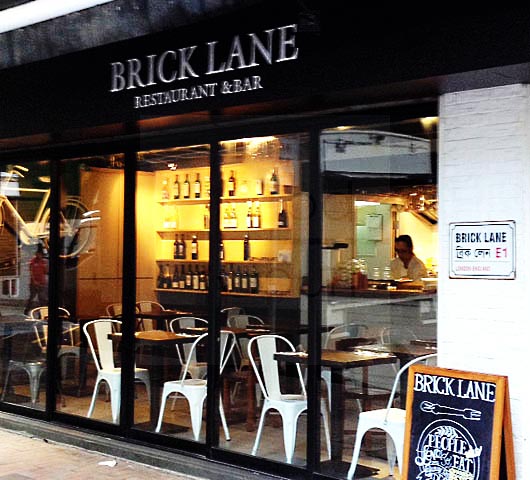 Share via Whatsapp
招牌菜:
All day breakfast
Egg Benedict Fish and chips
營業時間:請參閱內文
付款方式: Visa、Master、現金、
銀聯、Apple Pay、Google Pay
網址:
bricklane.com.hk
BRICK LANE
BRICK LANE®, under the management of Minden Concepts, has committed to bring onboard the ambience of Brick Lane in East London within its funky walls in Hong Kong since 2011.
The brand has 2 outlets, BRICK LANE in Admiralty and BRICK LANE Gallery in TST (www.facebook.com/Gallery.and.Restaurant).
The settings are chic and alluring, modelled off the actual Brick Lane in London. The big white bike mounted on its brick wall has become a brand icon of BRICK LANE®, coupled with dark wood furniture and vintage bulbs set an ambient and cool urban mood.
The ambience allows diners a space to respite in buzzy and crowded Hong Kong as well as making it a perfect setting to enjoy the unparalled quality range of English meals we serve up that would bring any Londoner home, including best sellers All Day Breakfast, Eggs Benedict, Fish and Chips, Guinness Pie and Red Velvet Cake produced by our own bakery BRICK LANE Sweets.

分店資訊
香港
金鐘店
地址:金鐘添美道1號中信大廈4樓404號舖 (港鐵金鐘站 D 出口)
電話:2363 2500
營業時間:
星期一至五:09:00-23:00
星期六至日:10:00-23:00
銅鑼灣店
地址:銅鑼灣禮頓道111號利園第六期地下G01號舖 (港鐵銅鑼灣站 F1 出口)
電話:27368893
營業時間:
星期一至四:09:00 – 22:30
星期五:09:00 – 23:30
星期六:09:00 – 22:30
星期日:09:00 – 23:00
九龍
尖沙咀BRICK LANE Gallery
地址:尖沙咀棉登徑17-23號地下 (港鐵尖沙咀/尖東站 N3 出口)
電話:2721 0628
營業時間:
星期一至四:09:00-00:00
星期五至六:09:00-01:00
星期日:09:00-00:00
公眾假期:09:00-00:00
新界
沙田店
地址:沙田沙田正街18號新城市廣場一期1樓126號舖 (港鐵沙田站 A3 出口 )
電話:21110480
營業時間:08:00 – 22:00
BRICK LANE facebookhttp://bit.ly/2rLXNu7
(以上資料祗屬轉載,客人如於使用上述優惠時與商户起爭議,i FoodCourt既不負責。)